Visitor Information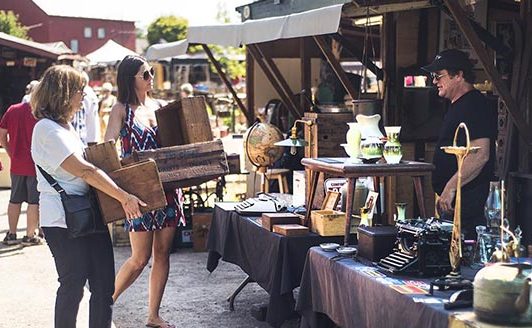 Open spring until fall, less than an hour from Toronto, the Sunday-exclusive market hosts 100+ quality dealers here for the entire season. Joining them, 30+ visiting dealers set up on a week-by-week basis.
We're a family friendly, wheel-chair accessible market. With ATMs site, and a delivery service available, all you need to bring is you; we'll bring the treasures, great prices, and a sweet low-key atmosphere, with good eats.
Admission Fees & Passes
We offer low adult admission. For your benefit we also offer a Sunday Season's Pass.
For Children ages 12 and under, entry is free.
Passes' can be purchased at the admission gate.
Sunday Market: $2.00 per adult
Saturday Special Shows: $8.00 per adult
Season's Pass: $30.00 for one pass. $50.00 for two.
* Season Pass includes admission to the Special Shows as well as the Sunday Markets
2019 Operating Dates & Hours
Regular Sunday Market
Opening Sunday: Postponed until further notice
Closing Sunday: Oct. 25, 2020
Saturday Special Shows
June Saturday Special: June 13, 2020
Fall Saturday Special: September 19, 2020
Open from 8 am to 4 pm
Payment Options & Delivery
Our vendors are cash only, however we provide an ATM on site for the convenience of our buyers.
Delivery of your antique can also be arranged with the vendor or at the Market office.
Restaurant and Food Services
Come for the antiques, stay for the food. Visit our new restaurant, where you can enjoy the taste of fresh, locally sourced ingredients indoors or outside on our spacious patio.
Bluewater Creamery offers ice cream and many more treats that will melt in your mouth.
If you're craving something salty, try Knots about Pretzels hand rolled gourmet artisan pretzels. They'll be sure to hit the spot.
Amenities
In addition, the Market also offers:
Free parking available on site.
Central washroom facility, plus portable loos.
Unsupervised playground to tire out your young ones.
A large outdoor patio with seating.
Green acreage behind the market for those who wish to take a stroll.
Policies
On-Leash Dogs
We love dogs, but not everyone does. Please remember common courtesy, and no one will be growling!
Well-behaved dogs on short leashes are allowed on the Market property.

Take your dog for a stroll around our green acres before entering the Market area – they can do their business, and it will help calm them.
Keep your dog close to you at all times so as not to interfere with other people or dealer goods.
You must pick up after your pet – if you need a bag, please come to the Market Office.
We reserve the right to ask you to remove your dog from Market property.
Please never keep your dog(s) in your vehicle on warm days.
No Smoking
Smoking is not allowed anywhere on the Market premises – outdoors or indoors – in accordance with the Smoke-Free Ontario Act.